The Andy Griffith Show: The Complete Series
Since its network debut in 1960, The Andy Griffith Show has been a viewer favorite thanks to its folksy, nostalgic charm and memorable cast, both of which shine in this set featuring the series' debut season. Originally spun off from an episode of Make Room for Daddy (both series shared producers Sheldon Leonard and Danny Thomas), The Andy Griffith Show centered around the lives of small-town sheriff Andy Taylor (the marvelously dry Griffith), his son Opie (Ron Howard), cousin and deputy Barney Fife (multiple Emmy winner Don Knotts), and the other gentle eccentrics of Mayberry (which was based on Griffith's real hometown). But while other "rural" programs poked fun at its characters (The Real McCoys, The Beverly Hillbillies), The Andy Griffith Show never stooped to stereotypes, preferring instead to draw its humor from the fine writing and cast, which counted Frances Bavier as Aunt Bee, Howard McNear as Floyd the Barber, and Hal Campbell as Mayberry's benevolent drunk, Otis, among the first season ensemble. All 32 episodes (including the epilogues, which are rarely aired in syndication) are compiled on this four-disc set, which regrettably lacks any supplemental features. –Paul Gaita
The Andy Griffith Show returns on DVD with its complete second season, a five-disc collector's set of 31 episodes more memorable than one of Aunt Bee's "kerosene cucumbers." Set in the small town of Mayberry, the television series (1960-1968) followed the hilarious antics of widower Sheriff Andy Taylor (Andy Griffith), his son Opie (Ron Howard), and Deputy Barney Fife (Don Knotts). It has achieved cult status as one of television's most beloved sitcoms for its stellar cast, pristine comedy, and nostalgic charm. By season two, the series found its tone and tenor, proved by such classic episodes as "The Pickle Story," "The Manicurist," and "Barney and the Choir." After viewers endure (or skip) Paramount's half dozen promotional trailers at the beginning of disc one, they can bask in 13 hours of restored, uninterrupted, black and white television magic. The season's parade of guest stars includes Barbara Eden, Buddy Ebsen, Alan Hale Jr., Bill Bixby, and Sterling Holloway. Whereas the first season's DVD set was without bonus material, this collection features sponsor spots, original commercial advertisements (linked to individual episodes) where the show's cast members promote brands such as "Sanka" coffee and "Post" breakfast cereals–a guaranteed smile. (All ages) –Lynn Gibson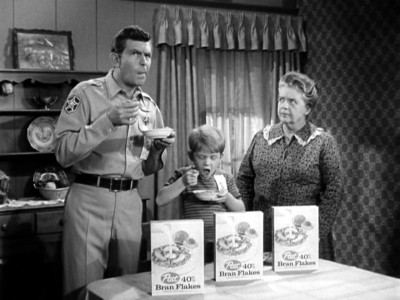 Season Three
The Andy Griffith Show hit its stride during its third season (1962-63), admirably restored in this five-disc, 32-episode boxed set. Andy Griffith perfects his levelheaded Sheriff Andy Taylor; Don Knotts is unsurpassed as the comically neurotic Barney Fife; and Ron Howard continues his legendary run as earnest Opie. The season opens with the endearing episode "Mr. McBeevee," Opie's friend in the trees who Andy believes to be a figment of his son's imagination. From there, every disc contains renowned classics, such as "Floyd, the Gay Deceiver" starring the dashing Howard McNear; "Andy and Opie, Bachelors" offering some of the season's greatest quips; and "The Darlings Are Coming," that crazy clan of mountain musicians including the overtly flirtatious Charlene. The season is acclaimed for introducing several new, recurring characters into the cast including Gomer Pyle (Jim Nabors), "Miss Peggy" (Joanna Moore), and Helen Crump (Aneta Corsaut). Except for two episodes missing closing epilogue scenes (which Paramount discloses), the set contains 13 hours of full-length, uncut, black-and-white magic. Also included is the originally aired "Fishin' Hole" theme music throughout the collection, as well as more than two dozen "Sponsor Spots," vintage commercial advertisements featuring the show's cast. Don't miss the season highlight, "Man In A Hurry," a touching story where Malcolm Tucker delivers the now-famous summation of Mayberry, "Outrageous… a whole town is standing still because two old women's feet fall asleep," precisely the reason why this beloved sitcom remains a timeless treasure. (All ages) —Lynn Gibson
Goober fans, rejoice–the arrival of George Lindsay's popular character is just one of the homespun joys of The Andy Griffith Show's fourth season, which has been compiled on this five-disc set. Lindsay as Goober Pyle, cousin to Jim Nabors's Gomer, makes his debut in one of the season's funniest episodes, "Fun Girls," which is also the only time Gomer and Goober appeared together on screen. By season's end, Gomer would depart for his own series (season 4's final episode, "Gomer Pyle, U.S.M.C.," would serve as the pilot for that program), but before then, he enjoyed some fine episodes, including "Andy Saves Gomer" (from a fire at the filing station) and "Citizen's Arrest" (a knockout showcase for Nabors and Don Knotts, who is topnotch, as always, as Barney Fife). Other supporting characters get a spotlight or two in season 4, including Howard Morris's Ernest T. Bass ("Hot Rod Otis, "Otis T. Bass Joins the Army") and Denver Pyle and Maggie Peterson's Briscoe and Charlene Darling ("Briscoe Declares for Aunt Bee"), but of course, the crux of the show remains Andy and son Opie (Ron Howard), who do stand-out work in the well-loved "Opie the Birdman," which addresses serious topics–death and responsibility–in the series' typically warm and humane manner. No supplemental features accompany the 32 black-and-white episodes, but that won't detract one bit from spending some quality time with the good people of Mayberry. –Paul Gaita
Season Five
When did Mayberry turn into Potterville? In The Andy Griffith Show's fifth season, Opie (Ronny Howard) buys silk stockings for an older woman, and publishes all of Mayberry's gossip in a scandal sheet. Sheriff Andy Taylor (Griffith) is accused of gross malfeasance. A former beau of Aunt Bee's tries to shake Andy down for $400. Bee herself (Frances Bavier) is a victim of a carny purse-snatching ring. And recidivists Otis (Hal Smith) and Ernest T. (Howard Morris) continue their drinking and rock-throwing unabated. As Bee wails in "Banjo-Playing Deputy," "What's this world coming to?" Not to worry. This is, after all, Mayberry, and Andy still has the patience, understanding and country smarts to restore calm and order. In "TV or Not TV," he sees through bank robbers (led by Gavin MacLeod) posing as a Hollywood film crew. In "Opie and the Carnival," he takes aim at two crooked barkers who have rigged a sharpshooting game. As the sheriff of Mayberry, much of his time is spent bailing out his hapless deputy, Barney Fife (Don Knotts). In "Barney's Uniform," Andy recruits a judo instructor to stand in when Barney is threatened by a disgruntled citizen.
Season 5 marked two notable lasts for this beloved series, which never fell below the Top Seven in the ratings. This was the last season in black and white. More devastating, it was multi-Emmy-winner Knotts' last season as Barney Fife. By the penultimate episode, "Opie and the Carnival," he is just gone, an unceremonious departure for an iconic character so integral to the show's success. That "Banjo-Playing Deputy" in the season finale is Jerry Van Dyke, who might have been a worthy replacement for Knotts. Instead, he reportedly turned down the role to star in his own sitcom, My Mother, the Car. The rest is TV infamy. By this time, though, The Andy Griffith Show's best years were behind it. But this season contains at least two classics, "Goodbye Sheriff Taylor," in which Barney is sheriff for a day while Andy interviews for a job in Raleigh, and "The Case of the Punch in the Nose," in which Barney reopens an unresolved 1946 case involving Floyd the Barber and Charley Foley. And with episodes featuring the late Howard Morris' Ernest T. ("The Education of Ernest T."), the Darling family ("The Darling Baby"), Mt. Pilot "fun girls" Skippy and Daphne ("The Arrest of the Fun Girls"), and a guest star turn by Don Rickles ("The Luck of Newton Monroe"), Andy Griffith Show devotees are advised to take the Fifth. –Donald Liebenson
Season Six
Ask a certain portion of diehard Andy Griffith Show fans why the series' sixth season (1965-66) is less well-loved than others from its eight-year run, and the answer boils down to four words: "Warren Ferguson" and "color episodes." Played by veteran comedian and writer Jack Burns, Warren was the replacement for Don Knotts' Barney Fife as Andy's sheriff, and lasted for just eleven of the season's 30 episodes before vanishing without a trace. The brickbats heaved at Warren are undeserved, though; replacing the multi-Emmy-winning Knotts was a task that few performers would have relished facing (and indeed, Knotts earned another Emmy for his return to the series in two episodes, "The Return of Barney Fife" and "The Legend of Barney Fife"), and Burns certainly gives his all (including his signature, rapid-fire "huh-huh-huh" gag line) to the character. He's no Barney Fife, and who could be, aside from Knotts? As for the color issue, the debate seems to be centered entirely around preference, although it's true that in syndication, viewer response has been traditionally stronger to the black-and-white broadcasts of seasons 1-5.
Aside from the Barney/Warren and color controversies, the sixth season is notable for the final appearances of supporting characters Malcolm Merriweather (Bernard Fox) and Ernest T. Bass (the great Howard Morris) in "Malcolm at the Crossroads" (in which the pair tangle over a crosswalk), as well as such fun episodes as "The Taylors in Hollywood" (Andy, Opie, and Aunt Bee react to a movie being made about them, with The Love Boat's Gavin McLeod as the movie Andy); "Andy's Rival" (Charles Aidman guest stars as a new teacher whose working relationship with Helen Crump makes Andy nervous); and "Otis the Artist" (an amusing Warren episode, in which he suggests painting to Otis as a substitute for drinking). Andy Griffith completists will also note the presence of Jack Dodson in the episode "Lost and Found"; Dodson would later join the series as Deputy Howard Sprague and transition with most of the supporting cast to Mayberry R.F.D. As with previous Griffith boxed sets, this five-disc set features no extras. –Paul Gaita
The Andy Griffith Show's seventh season (1966-67) was the beginning of the end for the venerable family comedy (Griffith brought it to a close with the next season), but the gentle humor and likable characters that helped make it one of the most popular series on television are still in fine form. Chief among the season's plusses is a two-episode return visit from Don Knotts as Barney Fife–in "A Visit to Barney Fife," Andy helps his former deputy find his footing at his new precinct in Raleigh, North Carolina, while in "Barney Comes to Mayberry," Barney reunites with his old flame, Irene Flogg, now a glamorous movie star. The latter episode, among the most popular of the series, won Knotts his fifth Emmy for portraying Barney. Otherwise, it's business as usual in Mayberry, with series regulars Frances Bavier (Aunt Bee), George Lindsey (Goober), Hal Smith (Otis), and a very grown-up Ron Howard (Opie) delivering their usual warm and funny performances. The show's new face, Jack Dodson (later Mickey Malph on Happy Days) fares considerably better as a Barney substitute than the ill-fated Jack Burns; as mother-dominated town clerk Howard Sprague, Dodson gets some very funny moments, especially in "Howard the Comedian," where he embarrasses the citizens of Mayberry with his TV standup debut. Also on hand: Aneta Corsaut as Helen Crump, Denver Pyle and the Dillards as the hillbilly collective known as the Darling Family, and an ailing Howard McNear as Floyd the barber; McNear had suffered a stroke and lost much of his mobility, but Griffith made arrangements that allowed him to continue on the show in a more relaxed capacity. Though perhaps not up to par with its earlier, black-and-white episodes, the seventh season of The Andy Griffith Show still has plenty of what made the show an enduring classic: low-key charm and homespun humor. The five-disc set has no supplemental features. –Paul Gaita
Season Eight
All good things must come to an end–even a classic TV series like The Andy Griffith Show–but most would hope to close out their network run like the venerable rural comedy series did, with its popularity intact (Griffith brought the show to a close with its ratings at #1) and its episodes still featuring the gentle, observant humor that marked every visit to Mayberry since its debut in 1960. Few changes can be seen in the 30 episodes compiled here, save for the color broadcast (which came to pass during the '65-'66 season) and the arrival of Sam Jones (the likable Ken Berry), another amiable widower who became the focus of the spin-off series, Mayberry R.F.D. Otherwise, it's business as usual in Mayberry, which includes a welcome return visit from Don Knotts' Barney Fife (in "Barney Hosts a Summit Meeting," where he convinces Andy to let the U.S. and Soviet governments host a summit in his home), a turn in the role of deputy for Goober (George Lindsay) in "Suppose Andy Gets Sick," a great deal of tomfoolery by newer characters Howard Sprague (Jack Dodson) and Emmett Clark (Paul Hartman), and guest appearances by Jack Nicholson ("Aunt Bee the Juror"), Allan (The Brady Bunch) Melvin ("Howard's Main Event") and Morgan Brittany as "Opie's First Love." Fans may debate on the quality of the final season in comparison to those that preceded it (and to be fair, there are a handful of less-than-stellar episodes, most notably "Opie's Group," which finds Andy's son joining a rock band), but the comfortable performances by the cast help to smooth over any rough patches. As with all previous Griffith boxed sets, no extras are featured here. — Paul Gaita